Raid on the Emperor's Hand Available Now
By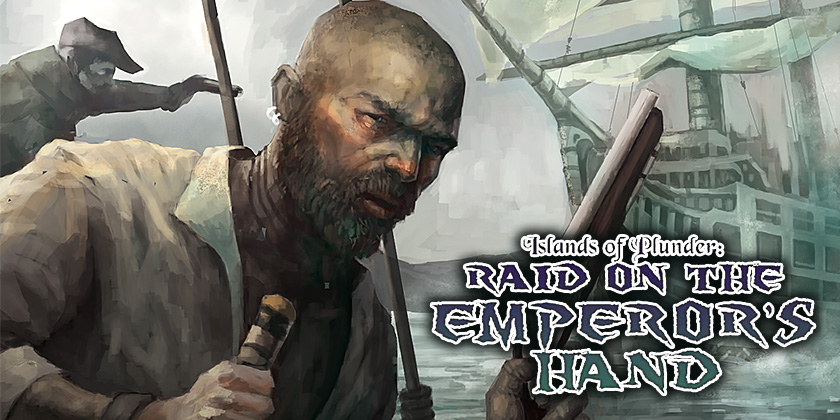 A tempting prize beckons your players in this new 8th-level, pirate-themed adventure for the Pathfinder roleplaying system from Legendary Games.
The Emperor's Hand, an imperial merchant ship bursting with precious cargo, has floundered on a sandbar. Your players' band of scurvy scalawags have found her first – and she makes an enticing target. But the sails of her imperial escorts may appear on the horizon at any moment, while the ship itself is well guarded by soldiers and a cruel and cunning captain.
A daring assault might bring the players more plunder than they've seen in a year. Then again, many pirates greedy for gold have lingered too long over a prize they thought safe only to be sent to a watery grave by an enemy fleet.
Can the players stage a lightning raid on the immobilized ship and get away with their ill-gotten gains? Dare they risk a Raid on the Emperor's Hand?
The Islands of Plunder: Raid on the Emperor's Hand is available now as a ready-to-play adventure for D20PRO. The download includes everything you need run the adventure:
Full adventure PDF
2 maps of the Emperor's Hand, spanning the massive vessel's 6 levels. Both maps come ready to use in D20PRO with shadow casting, fog of war and markers in place.
All NPCs entered into D20PRO, including the ship's captain, various crew members, pirates, soldiers and more.
Special rules for ransacking (e.g. quick plundering of large amounts of loot)
Raid on the Emperor's Hand is the latest in a series of pirate-themed Islands of Plunder adventures by superstar author Matt Goodall, collaborating on this adventure with Joshua Root. The adventure features amazing artwork by Ivan Dixon and William Hendershott and marvelous maps by Pedro Coelho.
The adventure can be easily dropped into any seafaring campaign, though it also harmonizes perfectly with the official Pirate Adventure Path from Paizo, Inc.
Download Islands of Plunder: Raid on the Emperor's Hand
D20PRO ready-to-play Pathfinder adventure for 8th-level players
Price: $5.00 (50 gold)
You can buy and download Islands of Plunder: Raid on the Emperor's Hand directly from the D20PRO software. Click on the Marketplace link in the main D20PRO menu, then click Launch Marketplace [step-by-step instructions].
Don't have D20PRO yet?
D20PRO automates the complex elements of RPG gameplay – while preserving full GM control – so groups can focus on the roleplaying experience.
Download our free trial to see how D20PRO can level up your next campaign.