D20PRO v3.9 Released!
By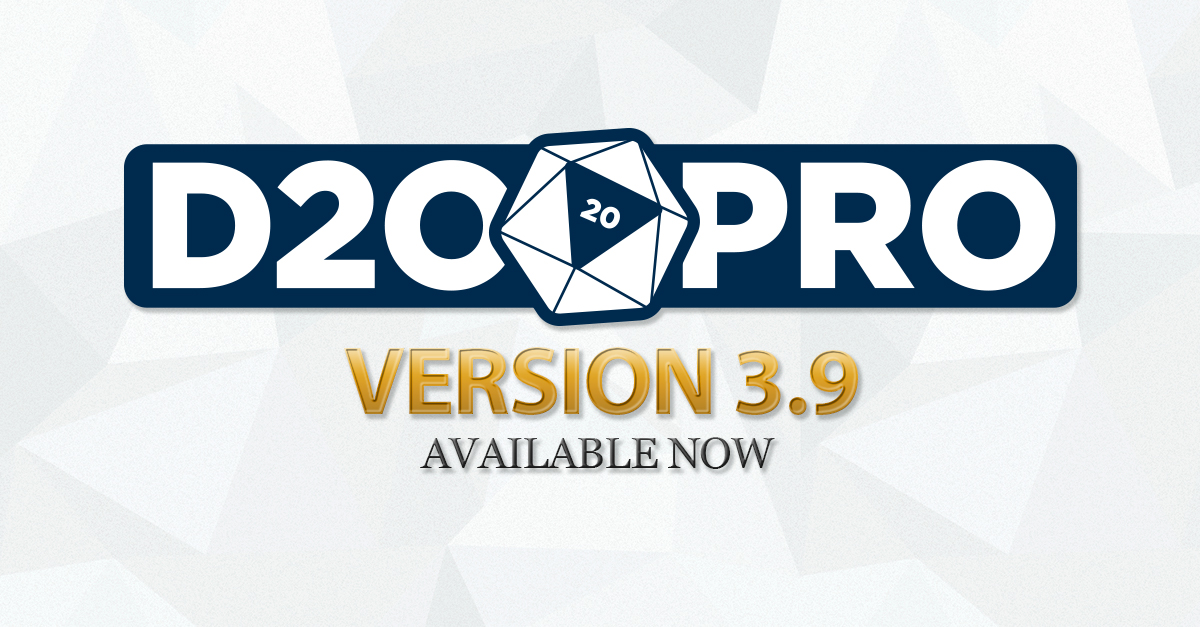 D20PRO version 3.9 is now available
Version 3.9 of D20PRO includes a large collection of bug fixes and updates. Here are the core changes in the 3.9 release. This list includes changes from 3.8.x as that version ended up being a live beta build stream instead of a proper release (to those of you who followed it and updated so often, thank you!).
Improved map rendering engine (faster everything)
Updated networking model to supply near-real time multi-user experiences for template, tokens and fog of war
Enhanced lighting engine with smooth gradients and mask detection
Fully integrated 3D dice and updated custom dice panel sizing
Improved rules optimization for features and spells
Extended class definitions allowing for rules overrides on a per creature class basis
Enhanced visuals for creature selection, map pings and movement
Completely rewritten Map Marker editor
An Enhanced handouts manager with table support — still a work-in-progress but functional
Added support for attacks firing features and/or spells from the creature attacks tab
Bundled Java full with commercial license for Linux, Mac and Windows
Sound system customization allowing you to add your own sound files as well as control the volume per sound type
Improved themes to adjust the look and feel of D20PRO
Colorized masks and improved fog of war features
Elevation settings for fog of war regions allowing you to create the illusion of elevation in mapping
Updated game log area to support 3D dice rolls, toggle-able Player List, enhanced right click menu options and more
Updated the Player map marker system and fixed legacy map marker loading support issues
Token status bars and other various token enhancements
Keyboard Layout updated for both GM and Player experiences
and much, much more
For a full list of changes please see the Release Notes document in the installation directory or view them online on the D20PRO Guide web site.
In addition to the guide above, we will be releasing a series of blog posts highlighting various changes and going over migration plans for people moving from a campaign from an older version to 3.9. There are some "gotcha's" in migrating from an older version to 3.9 as many of the underlying data structures have been updated or completely re-written to support the new features and provide future forward development paths.
For a highlight of the update instructions, please stop by the discord channel and check out the Support-FAQ. Many of the pinned messages are in regards to upgrading to 3.9 from a previous version.
If you are not already part of our discord, you can join by clicking this link.
Get D20PRO
You can download the D20PRO software from here.
Don't have D20PRO yet?

D20PRO automates the complex elements of RPG gameplay – while preserving full GM control – so groups can focus on the roleplaying experience. Download our free 30-day trial to see how D20PRO can level up your next campaign.