D20PRO includes everything you need to take your pen-and-paper roleplaying adventures to the next level. Check out the D20PRO Features Page to learn more. Follow the three simple steps below to get started using D20PRO.
If you are new to D20PRO, learn about our 30-day free trial.
Step 1 - Choose a D20PRO License
You can use D20PRO with a GM or Player license or as a limited guest user. All D20PRO licenses are buy-once products – so once you purchase a GM or player license for D20PRO, it is yours to keep. You can also upgrade and add seats at any time.
You can purchase your license using the D20PRO software as part of Step 3 below.
Best for players that want a guaranteed seat to join games, but don't need to build or host their own campaigns
Features
One Player seat
Join any D20PRO session without using one of the host's Guest Seats
Get full access to your character sheets, interact with other players and GM and control your game view
Upgrade anytime to a Full GM License
Best for gamers wanting all the tools D20PRO has to offer, such as GMs wanting to build their campaigns and play online with their friends
Features
Complete D20PRO access
Host a game as GM or join as a player for any D20PRO gaming session
6 Guest Seats included
Purchase additional Guest Seats ($10/additional seat) at any time
Supports as many Guest Seats as you need
Step 2 - Download D20PRO Software
Download and install D20PRO the appropriate version of D20PRO for your OS.
Step 3 - Purchase a License
After you install D20PRO, launch the application as an administrator and follow the instructions below to purchase or upgrade your license.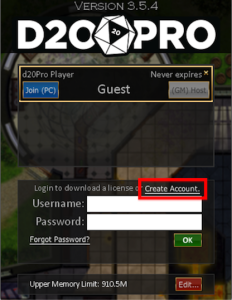 1) Login or create a D20PRO live account
If you already have a D20PRO live account, enter your username and password and click OK.
If you do not have an account, you will need to create one. Click "Create Account" and enter your desired username, email address and password.
When done, log in to your account to proceed.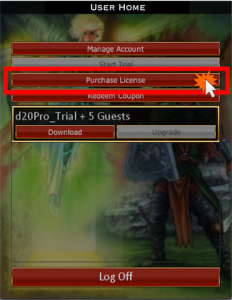 2) Select and purchase a license
Select the "Purchase License" button to continue
Press the "Purchase" button next to the license you want
Proceed through the PayPal checkout process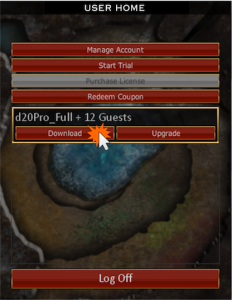 After your payment is complete , you can download your License
Click on the "Download" button where your Full License is displayed
Click the "Upgrade" button to purchase additional Guest Seat accounts