Waterdeep: Dungeon of the Mad Mage
By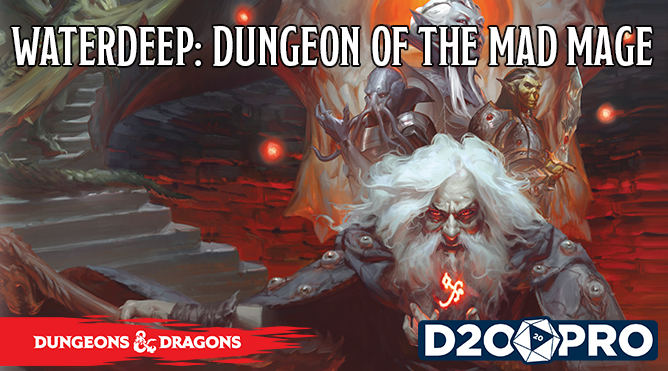 Waterdeep: Dungeon of the Mad Mage
Explore the mega-dungeon of Undermountain in this adventure for the world's greatest roleplaying game.
In the city of Waterdeep rests a tavern called the Yawning Portal, named after the gaping pit in its common room. At the bottom of this crumbling shaft is a labyrinthine dungeon shunned by all but the most daring adventurers. Known as Undermountain, this dungeon is the domain of the mad wizard Halaster Blackcloak. Long has the Mad Mage dwelt in these forlorn depths, seeding his lair with monsters, traps, and mysteries—to what end is a constant source of speculation and concern.
This adventure picks up where Waterdeep: Dragon Heist leaves off, taking characters of 5th level or higher all the way to 20th level should they explore the entirety of Halaster's home. Twenty-three levels of Undermountain are detailed herein, along with the subterranean refuge of Skullport. Treasures and secrets abound, but tread with care!
To fully utilize this product, a copy of the Waterdeep Dungeon of the Mad Mage product is suggested. For more information on where to buy, go to Wizards of the Coast.
Marketplace Page: Waterdeep: Dungeon of the Mad Mage — 300 Gold ($30.00)
While the maps included with this product are the black and white originals, there are colorized versions available from various artists. The maps included in this product have been designed in such a way as to allow for 3rd party art to be added as replacements in D20PRO without having to alter the fog of war! For more information on this please visit the forum thread here.
Waterdeep Dungeon of the Mad Mage for D20PRO includes Everything you need to take your adventures deep into the depths of the Dungeon of the Mad Mage!
300+ Creatures
24 Maps complete with map markers, fog of war, traps and secret doors
Release notes;
————————-

v1.0 (06/09/2020)
* Product Conversion by: Krilion GreyDragon
* Community Development Group Conversion by: Craig "HippyCraig" Gordon
* Maps do not have Encounters placed on them however Monsters are included in the Content Creature Library.
Marketplace Products
D20PRO-ready-to-play digital content
You can buy and download products directly from the D20PRO software. Click on the Marketplace link in the main D20PRO menu, then click Launch Marketplace [step-by-step instructions].
Don't have D20PRO yet?

D20PRO automates the complex elements of RPG gameplay – while preserving full GM control – so groups can focus on the roleplaying experience. Download our free 30-day trial to see how D20PRO can level up your next campaign.