Primeval Thule: The Lost Tower of Viondor adventure available now
By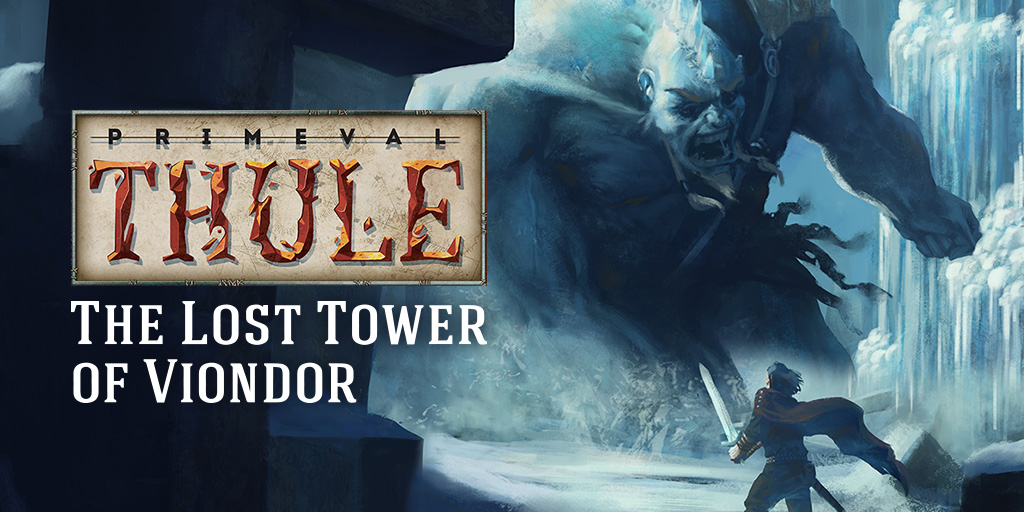 Experience The Lost Tower of Viondor, the first adventure in the Primeval Thule campaign setting, ready-to-play for the Pathfinder RPG on D20PRO
Last month we announced our exciting collaboration with Sasquatch Game Studio to bring adventures in the Primeval Thule setting to D20PRO. Many of you told us you couldn't wait to get your hands on D20PRO content set in the Conan and Cthulhu-inspired world of Thule. We have some great news for you: the first D20PRO ready-to-play Primeval Thule adventure is available now!
Today we are releasing The Lost Tower of Viondor, an adventure for 7-9th characters in the Pathfinder Roleplaying System. Read more about the adventure and how to get your hands on it below.
Seek the Lost Tower of Viondor in the Icy Wastes of Nimoth
A ghostly ship on the Sea of Mists, a frozen wreck in the Thousand Teeth, and the legend of a mad archmage who defied the icy doom of Nimoth—this is the tale of the forgotten Tower of Viondor. An Atlantean wizard of unparalleled inventiveness, the legendary Viondor refused to abandon his home when the glaciers surrounded his stronghold. The archmage and his tower were swallowed by the ice . . . or were they?
Now, two centuries after Viondor was last seen, a map leading to his refuge from the eternal winter of Nimoth has been found in the bony clutches of a long-dead sea reaver. What secrets of power and magnificent treasures lie waiting there for the hand bold enough to seize them?
Lost Tower of Viondor is the first adventure for the Primeval Thule campaign setting, making it the perfect introduction to this savage and brutal world. The adventure was written by Jason Nelson of Legendary Games, designer of End of Eternity, War of the River Kings, and Ultimate Combat.
Notable Features:
Full 24-page PDF detailing the adventure in three parts
2 maps, fully prepared to use in D20PRO with shadow casting, fog of war and markers in place
All NPCs and monsters entered into D20PRO
NOTE: Lost Tower of Viondor is ready-to-play in D20PRO, with all the creatures and NPCs included. Having the Primeval Thule Campaign Setting (book or PDF) is not necessary, but highly recommended.
Download Lost Tower of Viondor
D20PRO ready-to-play Pathfinder adventure 7th-9th-level players
Price: $15.00 (150 gold)
You can buy and download Lost Tower of Viondor directly from the D20PRO software. Click on the Marketplace link in the main D20PRO menu, then click Launch Marketplace [step-by-step instructions].
Don't have D20PRO yet?
D20PRO automates the complex elements of RPG gameplay – while preserving full GM control – so groups can focus on the roleplaying experience.
Download our free trial to see how D20PRO can level up your next campaign.