Terror, Horror & Gross-Out in your RPG
By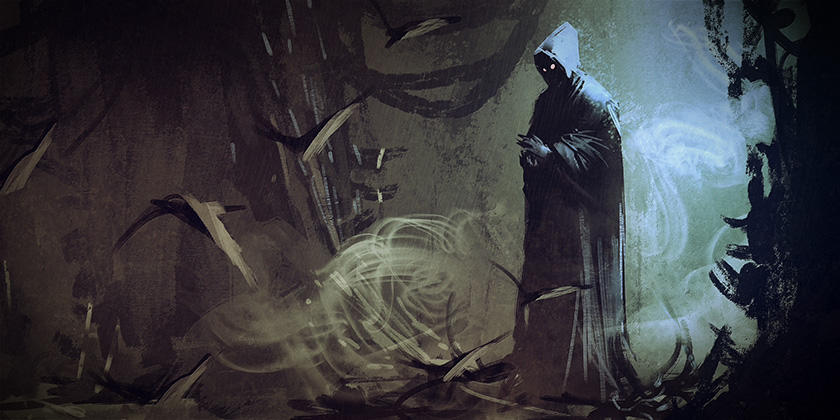 Just in time for Halloween, here are some ideas to add Stephen King's three elements of fear – terror, horror, and the gross-out – to your roleplaying campaign.

It's the spooky time of year and the perfect opportunity to inject some creepy into your game's campaign. In his 1981 book, Danse Macabre, renowned horror writer Stephen King gave a brilliant breakdown of three elements for writing compelling horror: terror, horror, and the gross-out.

Here's an explanation of each element and some suggestions for settings, monsters, and encounters for you to use when building out a campaign built on dread.

Terror
King described terror as "the finest element of the three" and the one he strives hardest for in his writing. Terror is about setting up dread, when the threat builds and looms, but has yet to be revealed. When successfully done, the players should feel a growing sense of anxiety, paranoia, and icy fear. Things lurk in the shadows, pulling away when light is brought to bear.

Settings for Terror
While your typical "spooky" settings work well for setting up terror: haunted houses, abandoned villages, and eerie wastelands, the alternative is even better. Start with normal, mundane settings, such as bustling towns, or verdant farms, and slowly introduce unsettling things.

Monsters for Terror
Subtle works best, so choosing monsters to invoke terror means taking the ordinary and adding a twist. The best monster is one that doesn't appear to be a monster at all:
Invisible Stalker– The perfect silent killer that strikes without warning. Have local townsfolk speak of a victim gorily torn apart by some unseen entity on a busy street in broad daylight.
Doppelgangers– No one is who they seem. Doppelgangers capture or kill key NPCs (or average people) and replace them, slowly sowing discord and fear.
Animals Gone Bad– Take an animal, any animal, and twist it with disease or dark magic. Present rumors of horses trampling and eating their owners or rat packs tearing whole families apart.
Horror
Horror is the moment when the abomination is first revealed. It is the "shortest" of the three and works best when completely unexpected. The key for making this effective is detailed, gut-turning descriptions. Play up the alienness of the monster including smell and sound. Rats don't squeak, they maddeningly chitter. The ghoul is hideous mockery of a humanoid with a stench that chokes the lungs.

Settings for Horror
As with terror, horror works best when the normal turns terrible in a moment. Creatures murder innocents in sickening and horrifying ways before turning on the adventurers. Shock is key: doors slam shut, candles snuff, and blood flows from walls. What was once a place of normalcy becomes a killing ground.

Monsters for Horror
The more mind-bending or sanity-warping the creature, the better. Choose monsters that cause revulsion on sight or whose massive size invokes hopelessness. Many monsters can change their appearance, so transforming from something normal to dreadful gives the most impact:
Undead– Go for undead that are rotting, emaciated, bloated, or haunting. When a ghost uses its horrifying visage, describe its new appearance in intimate detail.
Aberrations and Monstrosities– They can come in almost shape or form. While already horrific, there's nothing stopping you from changing its appearance to something that the players aren't familiar with. Cover them with ichor, have limbs move disconcertingly, or they vomit disgusting, but otherwise harmless filth.
Hags– Hags are vile fiends that mask themselves in illusion. Most choose to appear as old and ugly, but not horrid, human female, but there's nothing stopping them from appearing as a child, a harmless dog, or the like. When they transform to their true form, don't have it happen instantly. Describe as their limbs grow and faces shrivel to become their true monstrous appearance.
The Gross-Out
King considers "the gross-out" the cheapest element of the three. While that's true for fiction, it does have its place, especially in a more mature, dark roleplaying session. People aren't just killed, they are torn apart in a cloud of blood and viscera. When monsters do damage, they rip off limbs and disembowel. The gorier the description, the better.

Settings for the Gross-Out
Any setting works, but add in additional dangerous aspects: spikes for impaling, fire, or limb-grinding machinery. Make the place as horrible as the monster.

Monsters for the Gross-Out
Almost any monster works, as long as the description of its attacks are suitably gory. Here are some favorites:
Otyugh– Utterly disgusting with limbs that flay and tear.
Gelatinous Cube– Describe in detail as a trapped victim's flesh is eaten away.
Stirge– As it impales, blood spurts and muscles are torn away.
Hopefully the above inspires you to weave the elements of fear into your next adventure. Happy Halloween!