Download Into The Pale Tower from Storm Bunny Studios Now
By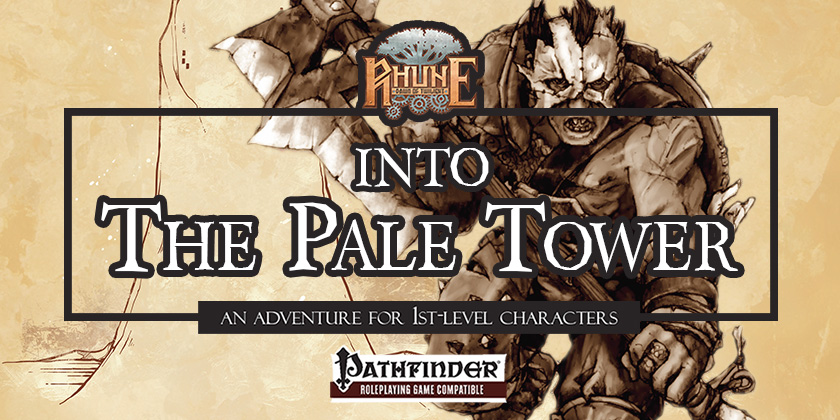 The frozen north calls your players in Into The Pale Tower, a new Pathfinder adventure from Storm Bunny Studios for 1st-4th level characters – available now on D20PRO.
When an attack on the Hanging Gardens of Hammerfall put the heroes into the very heart of chaos-they quickly discover just how dangerous the foes of the City-State of Vallinar can be! After meeting with some of Union City's more notable personalities, the heroes travel north to the frozen lands that surround Northgard, the last major military settlement to stand watch against the hordes of thrall-bound barbarians that hunt the North.
As the heroes explore the North and aid the people there, however, they soon discover a darker force is at work–and the only the bravest dare enter the infamous Pale Tower.
Adventure Features:
Part 1 of the "Beyond the Glittering Fane" adventure arc

Takes heroes from 1st to 4th level. When the heroes complete Into the Pale Tower, they'll have a clear idea of just how dangerous the North is!

Offers GMs "mythic" options for Rhune: Dawn of Twilight, adding even more challenge to those using those optional rules.
Introduces several new monsters suitable for play in any Pathfinder Roleplaying Game campaign. 

Includes D20PRO-ready maps with Fog of War and Shadowcasting 

Monsters, NPCs, and PDF ready to use inside D20PRO so you can start playing immediately
Additional NPC/Creature images provided by ArcKnight.
Download Into The Pale Tower
D20PRO ready-to-play Pathfinder adventure for 1st-4th-level players
Price: $7.00 (70 gold)
You can buy and download Into The Pale Tower directly from the D20PRO software. Click on the Marketplace link in the main D20PRO menu, then click Launch Marketplace [step-by-step instructions].
Don't have D20PRO yet?


D20PRO automates the complex elements of RPG gameplay – while preserving full GM control – so groups can focus on the roleplaying experience. Download our free 30-day trial to see how D20PRO can level up your next campaign.