New ArcKnight Maps and Tokens for D20PRO
By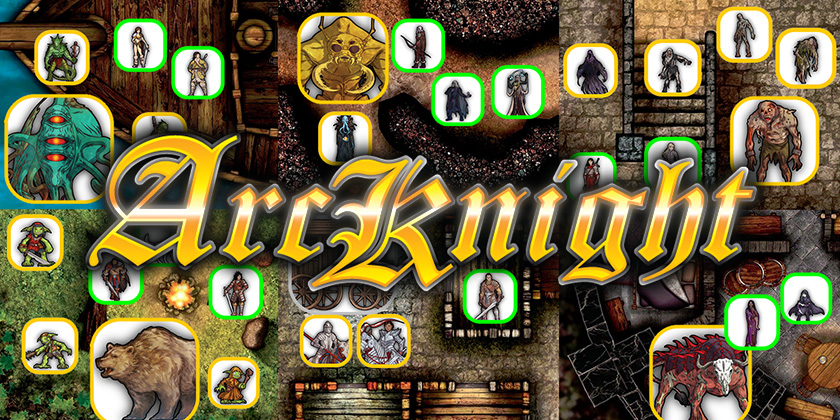 There are a ton of new maps and tokens from ArcKnight added to the D20PRO marketplace – and more are on the way.
We have teamed up with the good folks at ArcKnight to make more of their beautifully rendered map tiles and tokens available for D20PRO.
The new token and map packs are based on art originally only available as part of ArcKnight's line of physical Flat Plastic Miniatures products. Now you can get your hands on digital versions of these maps and tokens to use in your next D20PRO campaign.
Mix and match map tiles to build out dungeons, wilderness, castles, wizards towers, or any combination you want. Populate your new settings with high-quality creature and character tokens to bring encounters to life.
All the ArcKnight assets are high DPI images at an optimized file size, so they are always sharp regardless of zoom.
ArKnight Map Packs
The Cobblestone City
The Dungeons
The Extras Pack
The Grand Cathedral
The Greystone Castle
The Highborne Manor
The Timberwood Fortress
The Wild Outdoors
The Winding Caverns
ArcKnight Token Packs
Ancient Evils
The Grove
Mankind
Wildlands
The Underground
Download ArcKnight Map and Token Packs
D20PRO-ready-to-play digital content
Price: $5.00-6.00 (50-60 gold)
You can buy and download the new ArcKnight map and token packs directly from the D20PRO software. Click on the Marketplace link in the main D20PRO menu, then click Launch Marketplace [step-by-step instructions].
Don't have D20PRO yet?

D20PRO automates the complex elements of RPG gameplay – while preserving full GM control – so groups can focus on the roleplaying experience. Download our free 30-day trial to see how D20PRO can level up your next campaign.