New D20PRO Features Coming Soon in 2017
By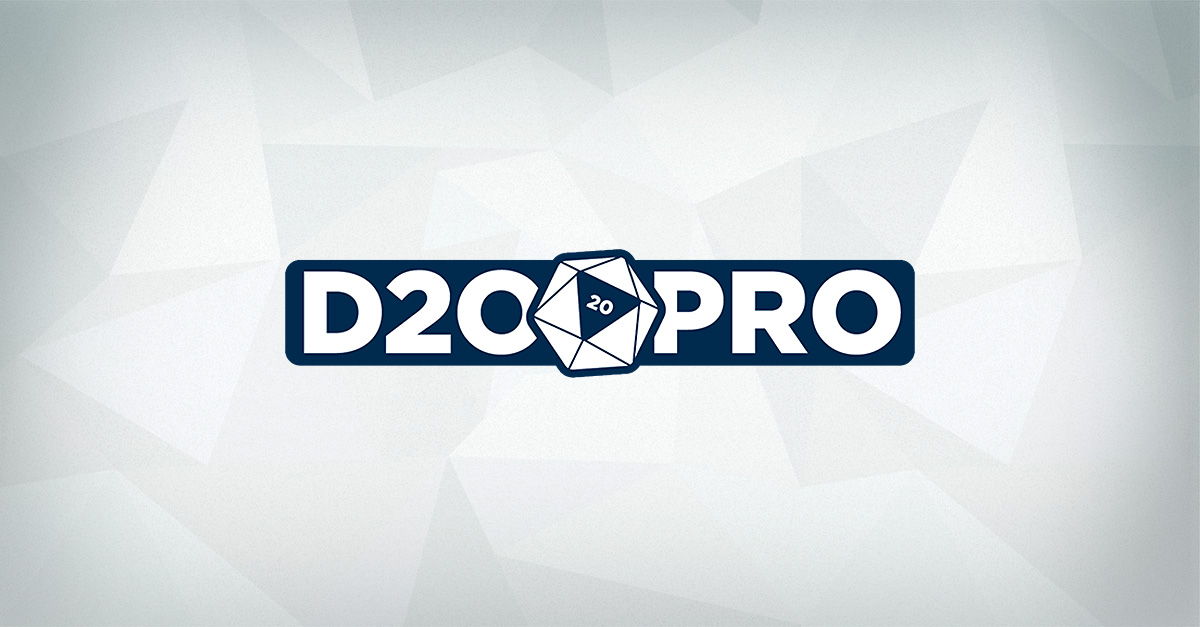 2016 was a pretty great year for D20PRO. Our team here at Mesa Mundi worked very hard to improve all aspects of D20PRO, with bigger, bolder plans for this coming year.
Here are some of the highlights from last year – and a preview of the cool new D20PRO features coming in 2017.
D20PRO 2016 Milestones
Gaining the official Pathfinder License from Paizo Publishing. After months of talks and planning, D20PRO secured the right in December to convert and sell official Pathfinder content! Pathfinder OGL and 3rd-party adventures and other material have been available for years, but soon you'll be able to purchase and play Pathfinder Society adventures, use official classes, races, and other content, and more – all inside D20PRO.
Shadow Casting Feature. One of the most requested features for D20PRO was the ability to include lights and shadows on maps. Our new shadow casting feature lets GMs set up dungeons with limited sight lines and add light sources— so now that creature lurking in the darkness really is impossible to see until it's too late…
PAX East/GenCon. Two of the biggest gaming conventions in the world, both PAX East and GenCon were huge successes for D20PRO. We demoed the app to hundreds of people, created and ran dozens of game sessions (including our very own adventure "The Crawl IV," with proceeds going to Indianapolis charity, the Pourhouse), and talked to numerous publishers about getting their content into D20PRO.
Extensive work on D&D 5E OGL. Many of you are already running 5E games in D20PRO, but the experience isn't as smooth as we'd like. Thus, we've been hard at work integrating the D&D 5E OGL ruleset into D20PRO, which in turn helped us improve the overall functionality and customizability inside the app. More on that below!
New Website, Forums, and Greater Social Media Outreach. We completely overhauled the D20PRO website and the forums to make them both faster and more user-friendly, with more updates coming soon. D20PRO's communities on Facebook, Twitter and other venues expanded exponentially as more people hear about our VTT and what it can do for their gaming experience. Special thanks to all of you for helping spread the word!
Cool New D20PRO Features Coming in 2017
Many of the plans and development we worked hard on in 2016 will bear fruit this coming year. We have big things in the works for 2017 for D20PRO—new features, improvements to the overall experience, licenses, and more robust content. Here's a peek:
Features Library. We're tantalizingly close to releasing the Features Library for D20PRO. What does it do? Almost anything you want as it pertains to your RPG! The Features Library lets a user create the mechanical effects for spells, special abilities, racial traits, magic items, traps and even environmental hazards! Using a node-based, visual scripting language (meaning you don't need to code), you can rapidly create any type of effect, regardless of game system or style.
Built-In Core Features. The above Features Library may sound complicated. Don't worry! We're creating all the settings for spells, special abilities, and the like for Pathfinder, 5E OGL, and 3.5 so you don't have to! Simply select a race, class, or item and D20PRO auto-populates the creature with the appropriate traits. Building adventures and creatures becomes far faster, informative, and automated.
Improved Networking. Connecting to your D20PRO session is about to get way faster and easier. Just create a campaign, assign it a name and a password, give those credentials to your players, and they just sign in! No more TCP/IP, port forwarding, or firewalls to worry about.
Game Lobby. Our new in-app game lobby will make it easy to keep track of your existing campaigns or find new ones to join. Browse open games, read descriptions and, if you're interested in participating, ask the GM for an invite to join their group. You can mark a campaign as a favorite and always know when your game is happening.
Integrated Chat. The upcoming integrated chat capability will allow you to communicate with your players during both live games and out-of-game inside the Game Lobby. This new chat system will support file transfers, drastically improving the delivery of handouts and images. We're also looking at ways to include in-app video chat, so you don't have to fire up a 3rd-party program to chat with your gaming buddies.
Pool Library and Item/Inventory Builder. The Pool Library lets you create items or special abilities with a limited quantity, including ki points, wand charges, and ammunition. Players will be able to "equip" items, which will automatically update stats, armor class, or built-in magic effects to their character.
Those are just a few of the features and plans that we have in store for 2017, with many more to come. Now is the perfect time to pick up a license and get ready for some serious gaming this year using D20PRO.
Good Gaming!
Don't have D20PRO yet?


D20PRO automates the complex elements of RPG gameplay – while preserving full GM control – so groups can focus on the roleplaying experience.
Download our free 30-day trial to see how D20PRO can level up your next campaign.