Essential Tokens for Epic Adventures
By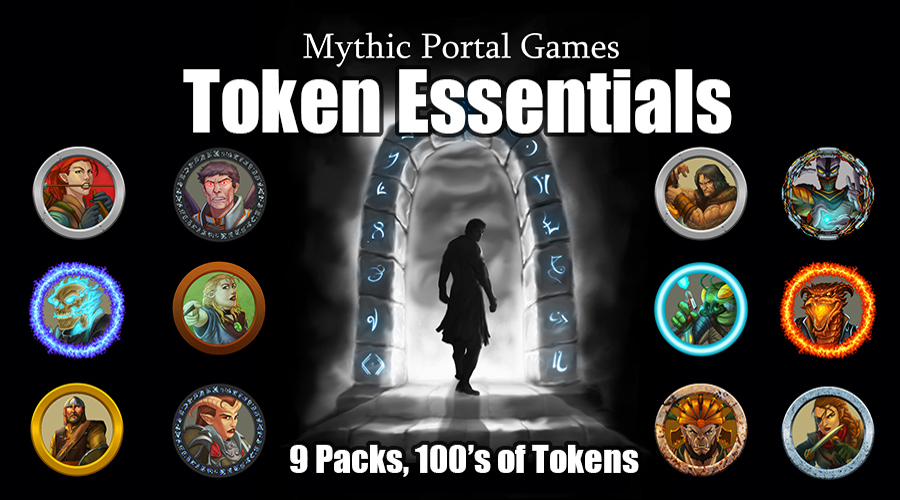 Mythic Portal Games' Token Essentials now in the Marketplace
Get ready for adventure with hundreds of new character tokens by Mythic Portal Games with their Portal Packs–Token Essentials series. From ubiquitous humans and half-breeds to exotic dragonborn and undead, these tokens represent each of the common classes for Pathfinder and Dungeons & Dragons, including male and female versions! Each token comes in a variety of attractive borders to help indicate friend from foe or mysterious stranger. To see all Mythic Portal products, check out the marketplace Here.
Mythic Portal Game's Portal Packs–Token Essentials series includes the following with much more to come:
Dragonborn of Kal'kiseth

Galactic Heroes

Half-Breeds

Planetouched

Undead and Loving It

Wee Folk

March of the Elves

Men of Wyndhaven

Dwarves of the Underforge
Download Mythic Portal Games' Token Essentials for Epic Adventures Products
D20PRO-ready-to-play digital content
Price Each: $5.00 (50 gold)
You can buy and download the Mythic Portal Games products directly from the D20PRO software. Click on the Marketplace link in the main D20PRO menu, then click Launch Marketplace [step-by-step instructions].
Don't have D20PRO yet?

D20PRO automates the complex elements of RPG gameplay – while preserving full GM control – so groups can focus on the roleplaying experience. Download our free 30-day trial to see how D20PRO can level up your next campaign.