D20PRO Version 3.7.3 Now Available
By
The latest version of D20PRO adds fixes for numerous bugs. Several game templates have been updated. Download it now! 
D20PRO version 3.7.3 is here and it introduces a TON of exciting fixes and gameplay enhancements. You can download it now from the Get D20PRO page. Read on for feature highlights and a peek at what is coming next.
Updates in D20PRO 3.7.3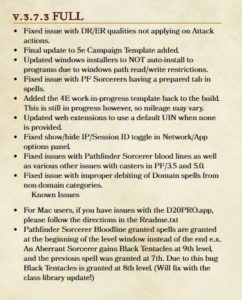 Check out the release notes for a full list of the features and enhancements packed into D20PRO version 3.7.2.  Below are some of the most significant highlights:
Fixes for spell casting.
Numerous corrections to classes.
Minor UI corrections.
PubNub Lobby changes.
D20PRO Lets You Play Your Way
What does all the above mean for you? First, it represents a significant enhancement to the gameplay experience within D20PRO. Second, it sets the stage for further feature and content enhancements.
Finally, it also means that no matter what kind of gamer you are, D20PRO has you covered:
Just want to play your favorite game with friends? Preconfigured rule systems will be coming to the D20PRO Marketplace soon. This will include all the powerful automation of the D20PRO Rules Engine already set up and ready for you to start playing right away.
Are you a GM who likes to play with house rules or homebrew content? No problem. The Rules Library and Editor will allow you to customize your game any way you like.
Want to build a rule system from scratch and you have some basic programming skills in JavaScript?  You can dig into the Rules API and create or customize entire rule systems from the ground up.
As you can see, there is quite a bit of RPG gaming goodness packed into D20PRO 3.7.2, but there are even more new features and content on the way. It is going to be a very exciting summer for D20PRO. Stay tuned!
Don't have D20PRO yet?
D20PRO automates the complex elements of RPG gameplay – while preserving full GM control – so groups can focus on the roleplaying experience.
Download our free trial to see how D20PRO can level up your next campaign.