Marketplace Autumn Sale
By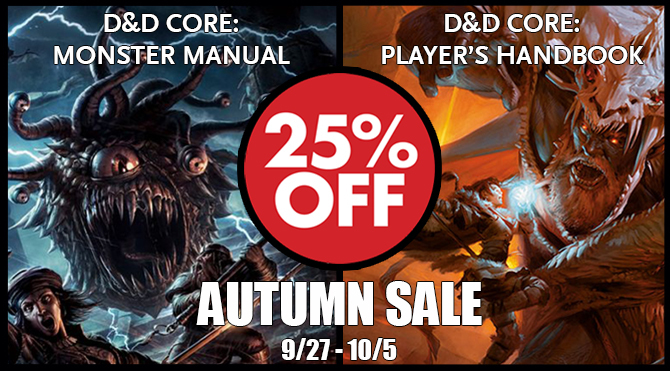 D20PRO AUTUMN SALE
25% off D&D Core: Player's Handbook & Monster Manual
Prepare your players this spooky season with the peril, danger, and adventure of Dungeons and Dragons! Get the D&D Core: Player's Handbook and D&D Core: Monster Manual for 25% off the regular price from 9/27 until 10/5.
The D&D Core: Player's Handbook provides everything you need to build characters right inside D20PRO—classes, races, equipment, spells, and more.
The D&D Core: Monster Manual contains hundreds of D20PRO-ready foes and fiends, complete with official Wizards of the Coast artwork.
Check out the D20PRO Marketplace to find other great items for your game!
Marketplace Products
D20PRO-ready-to-play digital content
You can buy and download products directly from the D20PRO software.
Click on the Marketplace link in the main D20PRO menu, then click Launch Marketplace [step-by-step instructions].
Don't have D20PRO yet?

D20PRO automates the complex elements of RPG gameplay – while preserving full GM control – so groups can focus on the roleplaying experience. Download our free 30-day trial to see how D20PRO can level up your next campaign.