Thanksgiving Sale 2018
By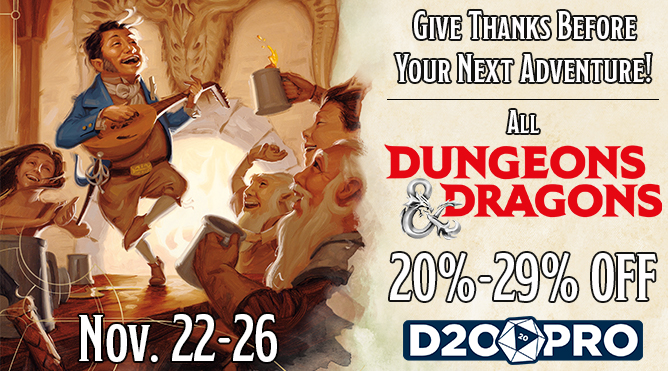 Throughout many lands and kingdoms, it is a time of feasting, family, and giving thanks. Why not include some adventure between trips to the buffet table?
From November 22nd– 26th (Thanksgiving through Cyber Monday), all Dungeons & Dragons D20PRO-ready adventure supplements and core products will be anywhere from 20% – 29% off! Now is the perfect time to stock up so your adventuring group will never run out of challenges.
Marketplace Products
You can buy and download products directly from the D20PRO software.
Click on the Marketplace link in the main D20PRO menu, then click Launch Marketplace [step-by-step instructions].
Check out the D20PRO Marketplace to find other great items for your game!
Don't have D20PRO yet?

D20PRO automates the complex elements of RPG gameplay – while preserving full GM control – so groups can focus on the roleplaying experience. Download our free 30-day trial to see how D20PRO can level up your next campaign.