Christmas Sale 2018
By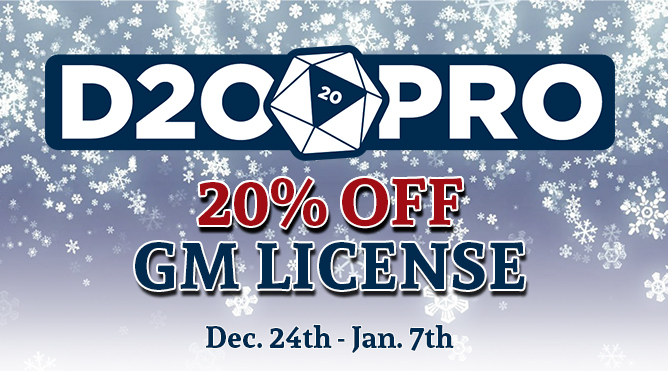 D20PRO License Christmas Sale
FULL GM LICENSE 20% OFF (Dec. 24 - Jan. 7)
Tis the season for more adventure!  D20PRO GM Licenses are 20% off until January 7th! 
a Full +4 GM License is available for $40 (from $50)
a Full +6 GM License is available for $56 (from $70)
We know that getting the gaming group together is difficult, which is why using the D20PRO virtual tabletop can keep your campaign running regardless of where everyone is at. Unlike other VTTs, D20PRO doesn't require a monthly subscription--purchase once, especially at this discounted price, and play forever.
D20PRO is optimized for most d20 style games, but can handle any RPG. If you're playing Dungeons & Dragons, Pathfinder, or Starfinder, you can jump directly into the action. Add maps, drop in some foes, and start playing!
New adventures, rules supplements, maps, map tiles, and creature tokens are being added to the D20PRO marketplace every month, providing enough variety to keep your players on their toes.
How to Get Your License
First, grab our 30-day free trial of D20PRO and then follow the steps here to upgrade to a full GM License at the discounted rate. Get your license today before this deal closes out!
Check out the D20PRO Marketplace to find other great items for your game!
Marketplace Products
D20PRO-ready-to-play digital content
You can buy and download products directly from inside D20PRO.
Click on the Marketplace link in the main D20PRO menu, then click Launch Marketplace [step-by-step instructions].
Don't have D20PRO yet?

D20PRO automates the complex elements of RPG gameplay – while preserving full GM control – so groups can focus on the roleplaying experience. Download our free 30-day trial to see how D20PRO can level up your next campaign.