Esper Genesis & Ultramodern5 (BETAS)
By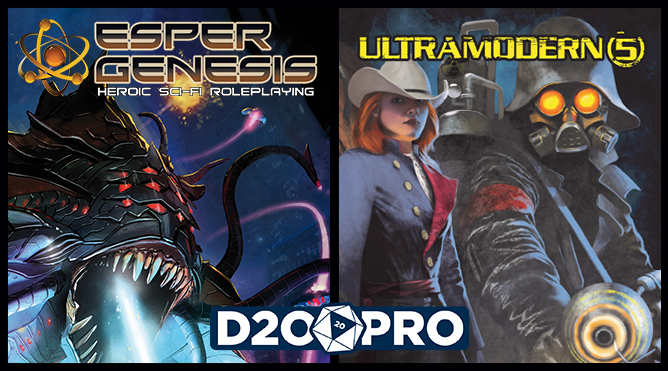 New 5E Compatible Rulesets for D20PRO (BETAS)
Fans of blending fantasy, sci-fi, and modern settings rejoice! The Esper Genesis (Alligator Alley Entertainment) and Ultramodern5 (Dias Ex Machina) ruleset supplements are now available on the D20PRO Marketplace.
Both of these D20PRO-compatible products provide everything a GM needs to run their adventure inside the D20PRO app. This includes stats and rules for class abilities, races, skills, feats, spells, and equipment.
Please note that these two products are in beta pre-release and most, but not all, rules automation are in place at this time. This is due to the complex mechanics behind running a modern/sci-fi game using the 5E rules engine. These products will receive regular updates with additional automation.
About Esper Genesis
From the creators: "Esper Genesis is a science-fiction RPG powered by the 5th Edition rules engine and inspired by the legendary works of sci-fi greats. Take on the role of a galactic hero within a universe of advanced technologies and hidden mysteries."
Get Esper Genesis in the D20PRO Marketplace
About Ultramodern5
From the creators: "The mission of Ultramodern5 is to present 5th EDITION rules for use in non-fantasy settings. These include pre-modern settings, contemporary settings, and those that are far flung fantastic and futuristic. Ultramodern5 presents modern and science fiction rules in a game usually reserved for fantasy. There is no established setting in U5. It presents classes, gear, and scenarios that can be inserted into any campaign, including the following: cyberpunk, espionage, modern warfare, space opera, techno fantasy, urban fantasy, steampunk, and wild west."
Get Ultramodern5 in the D20PRO Marketplace
Get Gold & Purchase
D20PRO-ready-to-play digital content
You can buy and download products directly from the D20PRO software. Click on the Marketplace link in the main D20PRO menu, then click Launch Marketplace [step-by-step instructions].
Don't have D20PRO yet?

D20PRO automates the complex elements of RPG gameplay – while preserving full GM control – so groups can focus on the roleplaying experience. Download our free 30-day trial to see how D20PRO can level up your next campaign.