Pathfinder (OGL), Bestiary 1 (OGL) & Starfinder RPG Supplements
By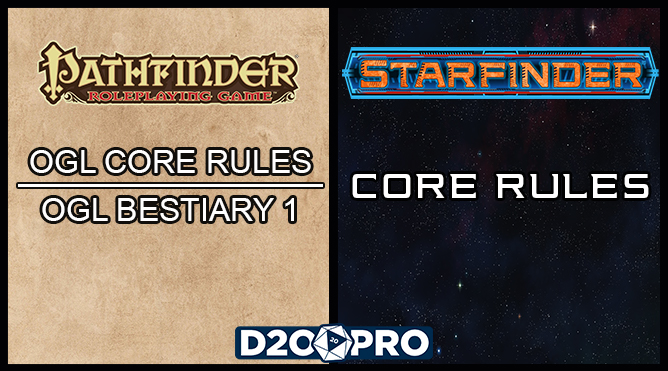 New Rulesets and Supplements for D20PRO
Paizo Publishing LLC's two most iconic brands, the original Pathfinder Roleplaying Game (OGL), Pathfinder Bestiary (OGL), and Starfinder Roleplaying Game, are now available on the D20PRO Marketplace. Each D20PRO-ready supplement is designed for use in the app's virtual tabletop space and includes everything you'll need for your particular campaign–fantasy, space, or beyond!
Each product comes with all the races, classes, feats, equipment, and spells (plus starships and vehicles for Starfinder) to enhance your D20PRO experience. The D20PRO-ready Pathfinder OGL: Bestiary 1 supplement is loaded with hundreds of monsters, including variants, ready to face against your campaign's heroic player characters.
Click the links below to find the product right for you:
NOTE: These products are designed to supplement gameplay inside D20PRO. While not necessary, game masters should also consider a physical or PDF copy of the Pathfinder Roleplaying Game and/or Starfinder Roleplaying Game (available at Paizo.com) for the full gaming experience.
Get Gold & Purchase
D20PRO-ready-to-play digital content
You can buy and download products directly from the D20PRO software. Click on the Marketplace link in the main D20PRO menu, then click Launch Marketplace [step-by-step instructions].
Don't have D20PRO yet?

D20PRO automates the complex elements of RPG gameplay – while preserving full GM control – so groups can focus on the roleplaying experience. Download our free 30-day trial to see how D20PRO can level up your next campaign.