D20PRO at Gen Con 2019
By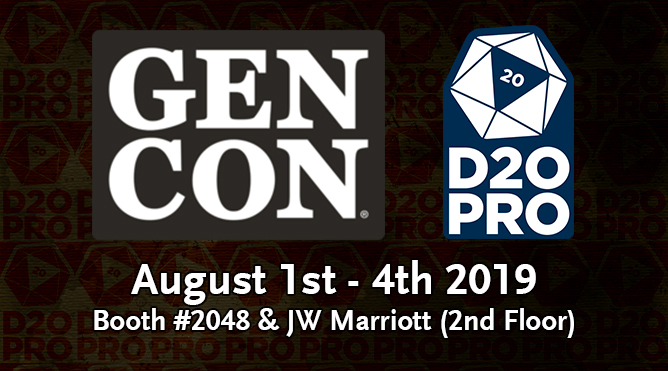 The Best Four Days of Gaming
It's the ninth year of D20PRO exhibiting at Gen Con, the best four days of gaming (August 1st-4th)! If you're curious to see D20PRO in action for the first time, or are a seasoned vet looking to chat with our crew and see what's new, swing by our booth and take a swing at a dragon, orc, or starship!
Where to Find D20PRO
If you're looking for D20PRO, we're listed as the company, Mesa Mundi, in the Gen Con exhibitor map (Booth #2048). Our intrepid staff will be showing off the latest features for D20PRO and will be bringing back the "Random Encounters" table—roll a d20, check the chart, and win any some D20PRO content or even a free, full license of the app! (No purchase necessary to play).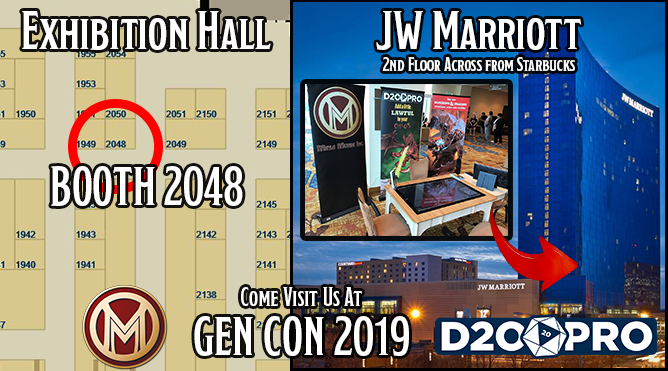 Want to Play Using D20PRO?
We're also running a second location at the JW Marriott hotel, second floor, immediately across from the Starbucks kiosk and skybridge to the convention center. Our staff will be running full sessions of D&D, Ultramodern5, and Esper Genesis all weekend. Interested in joining a game and seeing D20PRO played on a massive touch screen table? Sign up for one or more of these ASAP, as tickets are selling out quick!
What's New for D20PRO
We've added some incredible new features to D20PRO just in time for Gen Con. In addition to bug fixes and performance enhancements, we've done some cool stuff:
Full Motion Maps and Enhanced Weather Layer

Static maps are nice and all, but haven't you ever wanted to see the smoke from the dwarves forge or watch the crashing waves hit the shoreline on your map? D20PRO can now handle full motion maps to give that extra realism to your next encounter!
Elevation and Isometric Support for Fog of War
How do you determine what your character can see when he's down in a pit or uses those boots of flying to get advantage on the battlefield? What about on isometric maps? D20PRO has you covered!
Marketplace Products
D20PRO-ready-to-play digital content
You can buy and download products directly from the D20PRO software. Click on the Marketplace link in the main D20PRO menu, then click Launch Marketplace [step-by-step instructions].
Don't have D20PRO yet?
D20PRO automates the complex elements of RPG gameplay – while preserving full GM control – so groups can focus on the roleplaying experience. Download our free 30-day trial to see how D20PRO can level up your next campaign.