August Sale and D&D Month
By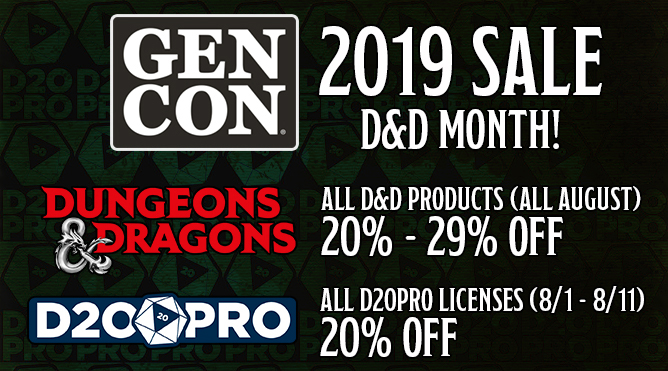 20% – 29% Off all D&D Products
Right in time for Gen Con 2019, all D20PRO-ready Dungeons and Dragons products will be on sale in the marketplace the entire month of August! This includes all core products, adventures, supplements, and map packs.
20% Off all D20PRO Licenses
In addition, all D20PRO licenses will be 20% off from August 1st through August 11th. If you've been interested in picking up D20PRO for your gaming, now's the perfect time to upgrade your free 30-day trial to a full GM License (if you want to run a campaign) or get a Player License (if you want to join a D20PRO campaign without taking up a seat).
Don't have D20PRO yet?
D20PRO automates the complex elements of RPG gameplay – while preserving full GM control – so groups can focus on the roleplaying experience. Download our free 30-day trial to see how D20PRO can level up your next campaign.
Marketplace Products
D20PRO-ready-to-play digital content
You can buy and download products directly from the D20PRO software. Click on the Marketplace link in the main D20PRO menu, then click Launch Marketplace [step-by-step instructions].