Acquisitions Incorporated
By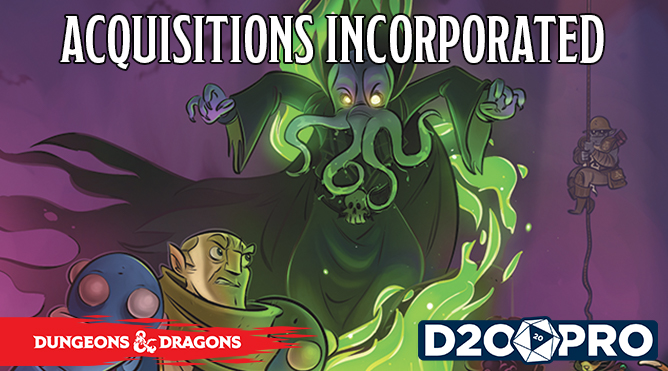 Explore a wealth of peril and personalities for the world's greatest roleplaying game
Just in time for Gen Con 2019, Wizards of the Coast's Acquisitions Incorporated is now available in the D20PRO marketplace! Even better, since this is officially D&D Month, you can get this product for 20% off through the entire month of August! If you're at Gen Con, stop by the Mesa Mundi/D20PRO booth (#2048) inside the Exhibition Hall.
Acquisitions Incorporated (Supplement/Adventure)
(D&D MONTH Sale price: $25.00 $20.00 / 250 200 in-app gold)
When you're just starting out in the adventuring business, it might be nice to have a leg up. It can be a big help to have access to the powerful artifacts, expertise, and jobs that Acquisitions Incorporated (Acq Inc) has to offer a new franchise. Join Omin Dran, Jim Darkmagic, and Viari like never before with the new Acquisitions Incorporated D20PRO-ready campaign supplement for Dungeons & Dragons!
Pick up a copy today on the Marketplace here.
Get Gold & Purchase
D20PRO-ready-to-play digital content
You can buy and download products directly from the D20PRO software. Click on the Marketplace link in the main D20PRO menu, then click Launch Marketplace [step-by-step instructions].
Don't have D20PRO yet?

D20PRO automates the complex elements of RPG gameplay – while preserving full GM control – so groups can focus on the roleplaying experience. Download our free 30-day trial to see how D20PRO can level up your next campaign.