Starfinder: Alien Archive 1
By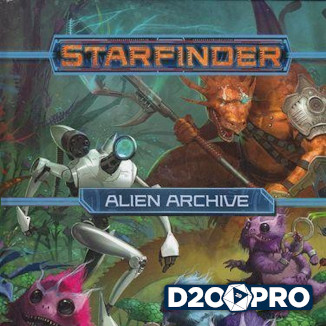 Starfinder: Alien Archive
Hunt Crest-eaters in the canyons of Kasath, avoid Asterays in deep space, make deals with Drow Arms Dealers, and more with the Starfinder Alien Archive 1.
This book brings to D20PRO numerous creatures and aliens to encounter in your Starfinder adventures. It also includes new equipment, ships, and the summon creature spell.
Each race, creature, item, spell and more has been adapted to work inside D20PRO. This product provides a Rules Library including the following:
20 new playable races, such as Drow, Space Goblins, and Skittermanders.
Revised Mystic and Technomancer class to include summon creature in their spell lists.
Lore for each race and creature.
210 creature tokens including variants and summoned variants.
Summon Creature spell.
Items including weapons, armor, gear, and ships.
Creature attacks, weapons, and equipment provide arying levels of automation.
There is a Starfinder: Core rulebook update to v0.3 (1/27/20). The updated Core system dataset is required to use this product.

When installing a Core System ruleset it is strongly suggested to do so as a newly created empty campaign.
This product is a supplement and still requires your GM to have a copy of the Starfinder Roleplaying Game for the full gaming experience. The Starfinder Roleplaying Game Core Rulebook is available at paizo.com.
Marketplace Page: Starfinder: Alien Archive 1 — 300 Gold ($30.00)
You can see all Starfinder compatible products on the Marketplace.
Marketplace Products
D20PRO-ready-to-play digital content
You can buy and download products directly from the D20PRO software. Click on the Marketplace link in the main D20PRO menu, then click Launch Marketplace [step-by-step instructions].
Don't have D20PRO yet?

D20PRO automates the complex elements of RPG gameplay – while preserving full GM control – so groups can focus on the roleplaying experience. Download our free 30-day trial to see how D20PRO can level up your next campaign.