Esper Genesis: Threats Database
By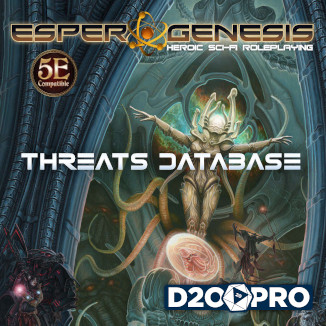 Esper Genesis: Threats Database
A Grand Collection of Sci-fi Monsters and Villains!
The Threats Database introduces a trove of sci-fi creatures, antagonists, and hazards to use with the Esper Genesis Roleplaying Game. Keeping with EG's full compatibility feature, this product can be used as a supplement to any D&D 5E setting, giving you the power to drop your futuristic baddies into a world of your choosing.
This product contains:
A breakdown of threat categories and types
Universal rules for using stat blocks for any 5E game
A collection of sci-fi threats from AI robots to cosmic invaders to trans-dimensional horrors.
Modern and futuristic NPC antagonists and allies
Rules for creating alien beasts that can be found on any world
Environmental starship hazards such as cosmic storms, spatial anomalies, and wormholes
Major galactic threats, their machinations, and potentially lasting effects in your game setting.
This product is a supplement and still requires your GM to have a copy of the Esper Genesis Roleplaying Game for the full gaming experience. The Esper Genesis Roleplaying Game Core Rulebook is available at Alligator Alley Entertainment. We also have the Esper Genesis Core Rulebook D20PRO conversion on our marketplace.
Marketplace Page: Esper Genesis Threats Database — 300 Gold ($30.00)
Product Conversion made possible with the help of our Community Development Group (CDG). Many thanks to Todd "Kodiak/Harlequin1975" Mandeville for his help.
Marketplace Products
D20PRO-ready-to-play digital content
You can buy and download products directly from the D20PRO software. Click on the Marketplace link in the main D20PRO menu, then click Launch Marketplace [step-by-step instructions].
Don't have D20PRO yet?

D20PRO automates the complex elements of RPG gameplay – while preserving full GM control – so groups can focus on the roleplaying experience. Download our free 30-day trial to see how D20PRO can level up your next campaign.