Come See Us at Gen Con 2017
By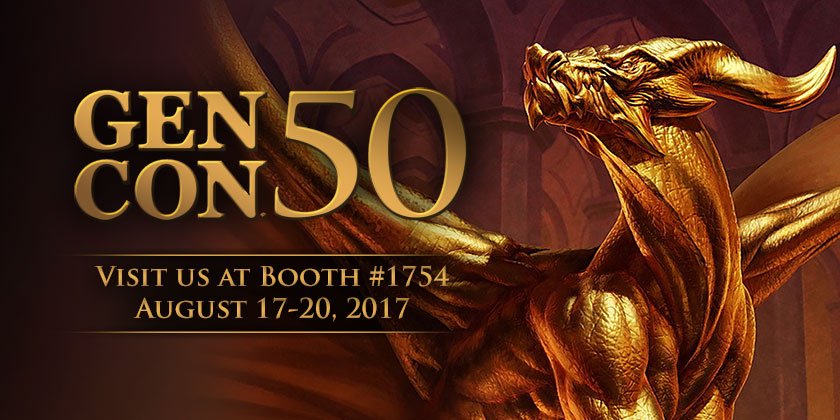 We will once again be on hand for Gen Con 2017. If you are at the "best four days in gaming" this year, be sure to stop by the Mesa Mundi booth (#1754). Read on for a preview of what we have planned.
This year marks the 50th anniversary of Gen Con and we're thrilled to be part of the fun. We have some cool things planned for the show – including a couple special sales in honor of Gen Con that you won't want to miss.
Below is the full scoop on everything D20PRO-related at this year's Gen Con.
Mesa Mundi Booth (#1754)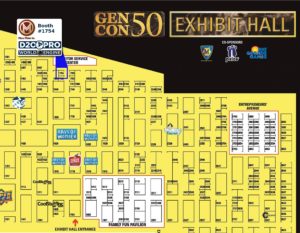 Come say "hi" to the team at the Mesa Mundi booth for a peek at all the exciting stuff we have in the works. We'll not only be showing off the latest cool new features released with D20PRO version 3.7, we'll also be demoing some of the awesome official Dungeons and Dragons content headed your way.
Booth visitors can likewise get a look at World Engine, our ultimate RPG map maker now in alpha development after a successful Kickstarter earlier this year.
Finally, the adventurous will be able to face the D20PRO random encounter: roll a D20, defeat a challenge and win a prize!
Starfinder – The Digital Tools Horizon
What does the digital destiny of Starfinder look like? Come hear Tobias Drewry, founder of Mesa Mundi and lead developer behind D20PRO and World Engine, join other panelists sharing their insights during the Starfinder – The Digital Tools Horizon panel on Saturday, August 19th from 2:00-3:30PM.
Seating is limited – so get details and reserve your free tickets on the Gen Con site.
D20PRO RPG Adventure Sessions
Our annual D20PRO RPG adventure sessions at Gen Con sold out again this year, but we invite you to stop by and watch a game in progress. See the schedule here.
This time around we're doing a D&D dungeon crawl and Starfinder space race:
Crawl V – 50 Years of D&D
Participants will dungeon crawl through history using D20PRO on a large digital touch table and maps made with World Engine. This age-13-and-up session will feature seven mini-adventures representing iconic themes from D&D settings (Greyhawk, Forgotten Realms, Dragonlance, Spelljammer, Dark Sun, Eberron, and Ravenloft) plus a final sinister challenge cooked up by the Mad Wizard Oggo.
Starfinder - Space Race
Adventurers must follow the treasure map and race through space to reach the legendary lost Excelsior spaceship before anyone else in this family-friendly game using the Starfinder RPG rules and D20PRO on a digital touch table.
D20PRO Special Offers for Gen Con 2017
We are running two special offers in honor of the 50th anniversary of Gen Con. You can take advantage of these two promotions whether you make it to Gen Con or not this year – but act fast, these deals are only valid from August 16th to the 23rd!
Save 33% on the D&D Core: Player's Handbook for D20PRO -- The D&D Players Handbook for D20PRO is available for a special introductory price of $20.00 (normally $30.00).
Save $20 with the D20PRO Gen Con 50th Anniversary Bundle – Get a full GM license with two additional guest seats (four total) for $50.00 – a $20 savings!
Don't have D20PRO yet?
D20PRO automates the complex elements of RPG gameplay – while preserving full GM control – so groups can focus on the roleplaying experience.
Download our free trial to see how D20PRO can level up your next campaign.