Save Big During The D20PRO Holiday Sale
By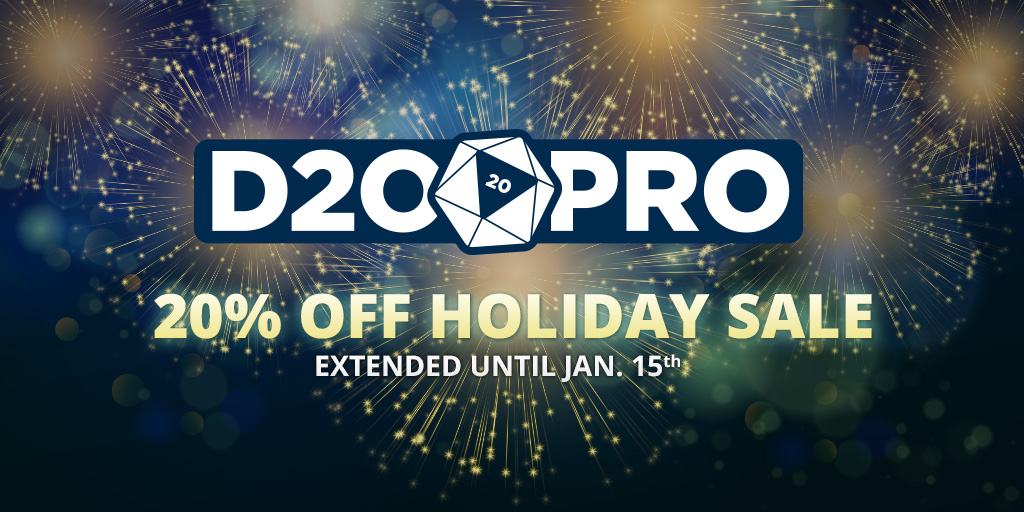 Take your campaign to the next level and save 20% on all D20PRO licenses!
Save 20% when you buy or upgrade any GM or player license for D20PRO using the coupon code Holiday2016. Visit our 2016 Holiday Sale page for instructions on how to take advantage of this limited time offer.
You have to act fast. This special holiday savings only runs until the end of December January 15th.
Level Up Your RPG Campaign with D20PRO
D20PRO levels up your pen-and-paper RPG experience by managing complex elements of gameplay while preserving full GM control. Spend more time playing the game instead of worrying about the rules. D20PRO automates combat, initiative, and movement as well as handling skills, abilities and spells.
See the D20PRO Feature Page for a full list of everything D20PRO can do.
Awesome New D20PRO Features and Content
We have been hard at work adding new features and content partners– and a lot more is on the way!  Read on for a few highlights.
New Features to Enhance Your RPG Experience
Earlier this year we added a shadow casting feature to maps, enabling dynamic light sources to interact with fog of war. Players can now inch along dark dungeon maps seeing only what their torches or dark vision reveals.
Numerous other enhancements have been made to the UI to make it easier to play any D20-based game, including advantage/disadvantage dice rolls and tracking for hit dice and death saves.
And there is much more gaming goodness on its way in our next version release of D20PRO. We don't want to spoil the surprise just yet, but a public beta version will be available very soon. Trust us, you are going to want to get your hands on these new tools for your gaming group.
Licensed Content from Your Favorite Publishers
We've recently added a bunch of new D20PRO ready-to-play adventures from Kobold Press, Legendary Games, Storm Bunny Studios and Sasquatch Game Studio (creators of the Primeval Thule setting). Visit the Marketplace to browse all the maps, tokens, adventures and supplements available for D20PRO.
This has just been the tip of the iceberg. We have some awesome announcements about additional licensed content coming to D20PRO very soon. So stay tuned!
Act Now to Save 20% on D20PRO This Holiday Season
If you and your gaming group have been thinking about trying a virtual table top solution, now is the perfect time to grab D20PRO and save.
Want to preview D20PRO before you buy? Take our free trial for a spin – just remember to buy your license before the end of the month to take advantage of our special 2016 Holiday Sale price.
This post was updated January 4th with the extended sale date and information. 
Don't have D20PRO yet?

D20PRO automates the complex elements of RPG gameplay – while preserving full GM control – so groups can focus on the roleplaying experience. Download our free 30-day trial to see how D20PRO can level up your next campaign.